Executive Council
The executive council, having representation from all academic programs, comprise senior students at the institution. The executive council not only represents the entire student council but also manages the financial and administrative affairs of the same. Some of the tasks delegated to the executive council include assistance in enrollment and orientation days, leading campus tours, being the face of the university to new students, participating in promotional activities and providing guidance to new entrants to the council.
President
Vice President
General Secretary
Director EMFSS
Director Laws
Director HND Business
Director HND Fashion & Interactive Media
Director HND Hospitality
Director HND Construction
Director HND Computing
Director ACCA
Director CIMA
GENERAL ASSEMBLY
The general assembly constitutes more than 35 clubs and societies each catering to various areas of students' interest. Each club/ society has a president from the senior students and a vice president representing newly enrolled students. It's the club/society president's duty to train the vice president with the experience he has gained as a senior student at TMUC so that the latter can become an efficient member of the Student council.
Immediately after election each club/ society has to present a flowchart of relevant activities at the beginning of each session. The members of clubs and societies are given maximum opportunity to explore and demonstrate their creative and entrepreneurial skills by designing activities and generating resources for the same respectively.
President Dramatics Society
Vice President Photography Club
President Photography Club
Vice President Entertainment Society
President Entertainment Society
Vice President Debating Club
President Debating Club
Vice President Music Club
President Music Club
Vice President Civic Society
President Civic Society
Vice President MNMCC'16
President MNMCC'16
Vice President MGEW'16
President MGEW'16
Vice President Dramatics Society
President Adventure Club
Vice President Adventure Club
President Model United Nations Club
Vice President Model United Nations Club
President Sports Society
Vice President Sports Society
President Gaming Society
Vice President Gaming Society
President Literature Society
Vice President Literature Society
President Entrepreneur Society
Vice President Entrepreneur Society
President Art and Fashion Society
Vice President Art and Fashion Society
President Finance Society
VP Finance Society
The annual student council elections take place within the first two months of the commencement of an academic session. Students from all disciplines are encouraged to participate in the election process whether it be as a candidate or a voter. The election procedure involves the submission of a nomination form to the administration by the council aspirant.
To ensure an efficient student council, only members with a good standing in the student body are considered for the leadership positions (Executive Council).. The candidates nominated for the first time for one of the leadership positions should have to be active volunteers in the student council activities. Right after the closing of the nomination period the existing student council leaders along with the management evaluate the received nominations.
The students can be elected either through a rigorous interview by a panel comprising the incumbent council and management, or a vote from the student body. All students can vote for the candidates and each student has one vote per position. The election results are announced within a week.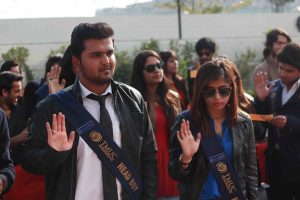 The newly installed student council takes office as soon as they are elected. Soon after, the council takes oath in a formal oath taking ceremony wherein they are presented with their sashes and badges in the presence of a distinguished guest.
You will be a leader. At some point in time, as your career progresses, you will assume various leadership roles, both in your jobs and in the wider areas of your life. We aim to develop your skills and give you the experience you need so that you will be prepared to face these challenges.
Leadership and development means that every one of you will have the opportunity to undertake leadership roles. It also means that we will train you in the necessary skills and help you build the confidence that you need.
One of the most exciting aspects of student life is the opportunity for students to take up leadership roles in various clubs/societies in the student council. Clubs, societies and student council create a community and culture of team work, leadership, hone student life skills and create an ecosystem of growth and positivity. Each council member brings his/her varied interests to the council to create a council representative of TMUC's diverse student body.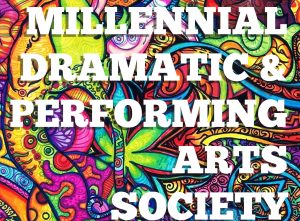 TMUC's dramatic society focuses mainly to give an opportunity to all those students who have an immense love for the stage and want to display their emotions and art through theatre. The society has been successful in conducting a few events and displaying two very powerful theatrical plays Written and Directed by the president of the society himself, MEN ARE FROM MARS WOMEN ARE FROM VENUS, a break up comedy and WHY?, an intense anti-narcotics themed play. We here at The Millennium University College want our students to display their talents in all ways possible. This society welcomes and encourages all those who are willing to showcase their performing arts skill whether it be writing, directing, acting or crew work. For registration please contact
Amina Imtiaz
0336-8839880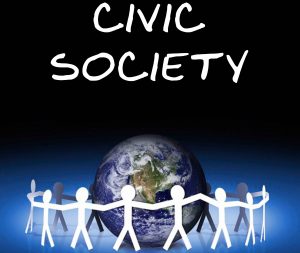 The Civics society is based upon the concept of Action Civics; an approach which involves an initiative taken and driven by the younger generation of a society against any societal issue, which is only guided by the elder generation of the same society. This society is also highly dependent upon the concept of consensus building, whereby voting on all important matters, taking place within the society, is carried out and decisions are made accordingly. TMUC Student Affairs office and the Civics Society believe that a handful of dynamic, energetic individuals can make an impact of much greater and broader magnitude than they think they can. The TMUC Civics Society is collaborating with International firms, government organizations and local, private entities, for the completion and success of various projects. The society also looks forward to uphold and highlight TMUC's name across all these platforms.
Amina Imtiaz
0336-8839880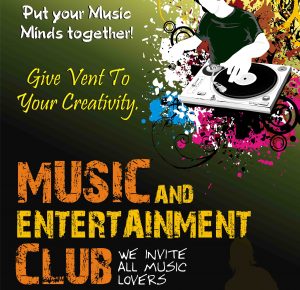 Entertainment Society: The entertainment society helps TMUC arrange most of the co-curricular activities going on at campus be it the welcome & farewell parties, bonfires,  fashion shows, Halloween parties or even DJ nights. As you can see, this society plays a major role in all entertainment related activities. In the 2015-2016 session, the Entertainment society has helped arrange the welcome party, MGEW fashion week and Vanity Fair (farewell) which were the top three events of the session.
Amina Imtiaz
0336-8839880