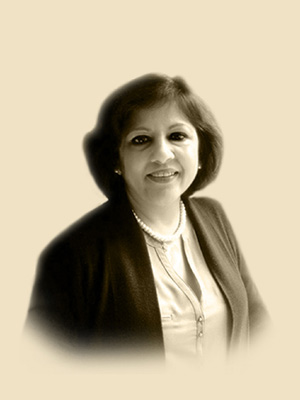 At The Millennium Universal College, our goal is to provide education that encourages social and emotional growth, critical thinking, confidence building, analytical problem solving, responsibility, innovation, engagement, leadership and citizenship. High standards and expectations for each student in regard to academic performance, co-curricular participation and responsible citizenship are the foundation of our university, it is with pride that we hold these high standards and ask each of our learners to commit to maintaining the extra ordinaryrecord of achievement and contribution that has been the legacy of TMUC students.
Safia Farooqi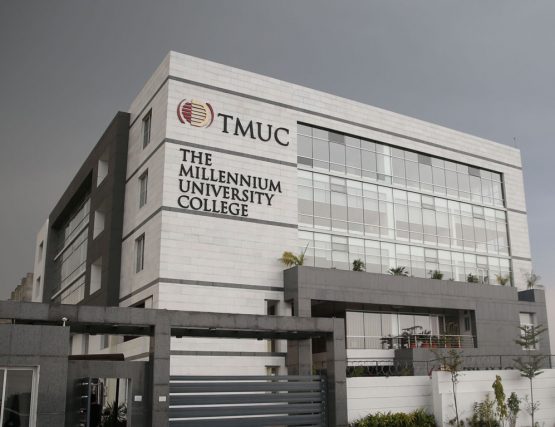 I am a youth enthusiast, with nineteen years of higher education experience, I believe in investing in the future of the country, it is our responsibility to provide the 7th largest youth population with Global opportunities. The Millennium Universal College is a transnational higher education provider, it is the only place in Pakistan where you will receive a globally recognized degree with an international college experience at a purpose built campus. TMUC Campuses with a modern approach towards design and student centered ethos add value to the learners. With an ever changing job market, a fast paced global community; our learners now face the challenge of being relevant and aligned with skills and knowledge of our future and their present.
To stay at par with the growing needs of the learner it is important to respect them and to learn from them. The Millennium Universal College is a reality of a team of individuals that have felt the need to fill the vacuum of providing international degrees and programmes to the students with quality, so they stay relevant in the ever changing world of employment, entrepreneurship and opportunity.
I look after the International Office and Quality Assurance for TNE HE, it is challenging yet rewarding. Me and my team learn and improve with every feedback, training, process development and implementation. Our stakeholders expect the best from us and we try and meet and at times exceed their expectations. Keeping our delivery and outcomes aligned with our international partners is most important for us. Success of our students is success for us. I have a masters in English Literature and Linguistics, and an MBA in Marketing, I am currently enrolled in the PG CERT for Learning and Teaching in Higher Education from the University of London. I am also a Fellow with Chartered Member Institute, I have recently completed my training with QAA UK 'Concepts of Quality.'
Kholah Yaruq Malik
Director Quality Assurance and International Qualifications TMUC Pakistan.
kholah.malik@tmuc.edu.pk
quality.assurance@tmuc.edu.pk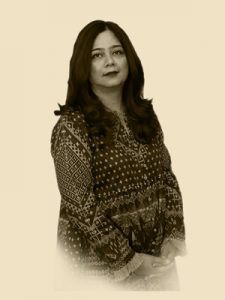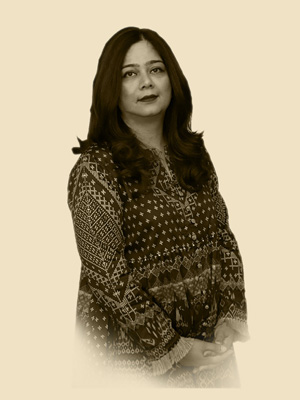 I feel proud to be associated with The Millennium Universal College – one of the most progressive educational Institutions in the country, striving to bring innovative, diverse and recognized qualifications to the youth of Pakistan. As a young student if you are thinking of pursuing high education, then you definitely have the desire to study in a top-grade university that is affordable accessible and globally acceptable. We take pride, not only in the fact that we are Pakistan's first purpose-built campus offering borderless education, but also that we offer a high concentration of talented and internationally qualified faculty members, student support facilities and services that extend opportunities offered in the local stream of education.
We foster competitiveness, creative thinking, and innovation by providing a learning environment that encourages working on innovative projects in order to promote holistic personality development for nurturing future leaders. To remain at par with international standards TMUC stays abreast with external developments and best practices in higher education and sees this as part of being a self-critical academic community.
With the commitment to foster educational development across the higher education arena of Pakistan we also wish to make a significant, sustainable and socially responsible contribution to the global community
Amina Imtiaz
amina.imtiaz@tmuc.edu.pk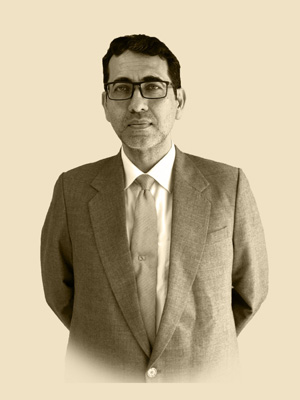 TMUC: REAL, SIGNIFICANT, TERTIARY UK EDUCATION
It is my great honour and privilege as Head of the Institute, to welcome you to distinguished teaching, innovative research and impactful outreach at TMUC, DHA-1 Karachi campus, your hub for real, significant, tertiary UK education.
TMUC is established in Karachi and numerous jurisdictions within Pakistan (Islamabad, Rawalpindi, Lahore and Gujranwala) as a valuable, viable, and vital UK Trans-national, multiversity Certificate, Diploma, and Degree-tract Higher Education Institution (HEI).
TMUC is your "Golden Algorithm" to affordable, intuitive scholastic achievement and success:
Top UK Programmes + 100% UK Graduate Faculty + World-Class State-of-Art Facilities + Professional Quality Assurance & Oversight = Game Changer with Credentials from a Leading, Premier UK University or Awarding Body (Internationally Recognised and Distinguished for Excellence.)
TMUC impacts your world and beyond as you interact, participate, create, curate, validate, incubate, and disseminate knowledge, skills acumen, leading-edge research as well as rewarding experiences to ignite and sustain your passion for life-long distinction.
As you are thinking "success," and exploring forward steps towards leadership and professionalism in the knowledge-based Glocal and Global economies, TMUC will diligently deliver a nurturing, rewarding and challenging opportune environment.
We are here to seed and invest our best resources and time with you; and it's our mission to strategically support, recognize, and build your capacity as Pakistan's MVP (Most Valuable Professional) Intellectual Asset.
So, let's start your remarkable journey with The Millennium University College nearest to you.
Malik, Abdul Hafeez
Abdul.hafeez@tmuc.edu.pk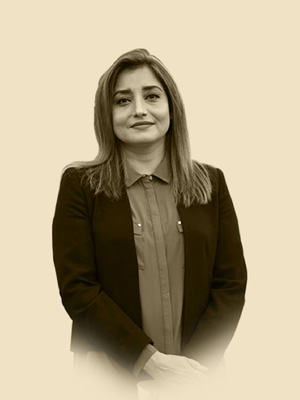 We envision The Millennium Universal College to become foremost University in Pakistan by adopting competitive practices & achieving Academic professional excellence in education sector through knowledgeable / talented faculty and administrative / support staff. Our core values shall encompass supporting work environment, treating the family (faculty & students) of TMUC with respect, fairness, honesty, patience, supporting flexibility in curriculum / work arrangement while balancing the work place requirements and celebrating contributions of faculty/ staff & accomplishments of our students.To keep the pennants of TMUC flutter higher as we progress one pedestal to the other our objective shall be to foster and enhance research activities that provide transformative experience to our students and advance diversity and inclusivity that leads to increased understanding of cultural virtues & community behavior as we expect students not only from every nook and corner cis-frontier but also trans – frontiers.
Fortified with hindsight experience and firm resolve we will (as a team) address the challenges through innovative ideas, creative energy, high morale/spirits and above all open ,supportive and constructive feedback from our pillar of strength that is parents and peers.
Shabana Jaspal