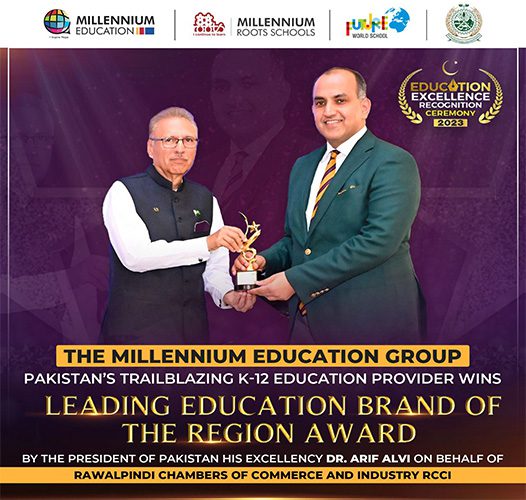 The Millennium Education (TME) Group has been honoured with the Leading Education Brand of the Region Award at a first ever Education Excellence Recognition Ceremony held at Aiwan-e-Sadr HERE, hosted by Rawalpindi Chamber of Commerce & Industry (RCCI), says a press release.
Founder & CEO of The Millennium Education Group, Dr. Faisal Mushtaq TI, received the award from the President Dr. Arif Alvi at a ceremony held in Presidency. This recognition is a testament to the remarkable contribution that TME Group and The Millennium Universal Colleges (TMUC) have made towards transformation of education through their world-class curriculum, their 21st century teaching methodologies, foreign languages programme, beyond the classroom initiatives, Extended Learners Enrichment and Essential Learner Development Programmes, and digitally inclusive classrooms. The awards ceremony was organised by RCCI to honour excellence, and recognise the creativity, hard work, and success of educational brands.
Speaking on the occasion, Dr. Faisal Mushtaq emphasised the importance of quality education in ensuring the success of the youth in Pakistan. He stressed that quality education is not only vital for individual success but also for the overall prosperity and progress of the country. Dr. Faisal also highlighted, the significance of promoting academic excellence, student achievement, social entrepreneurship, and equal opportunities for all. He believes that providing learners with the right platform is essential in helping them achieve their goals of getting into top universities worldwide. At the end, he reiterated his commitment to providing innovative and world-class education to learners everywhere.
The Millennium Education Group is the third-largest educational group in Pakistan, providing K-12 education for the past 35 years. It boasts the largest K-12 teacher training institute, with over 9,150 active alumni, more than 25 educational qualifications and eight prestigious examination and qualification boards globally. The Millennium Universal Colleges TMUC is the Transnational Higher Education Wing of The Millennium Education Group, recognized by the Higher Education Commission (HEC) of Pakistan.
The Millennium Education Group also established The Millennium Institute of Technology and Entrepreneurship (MiTE) in Sindh, its first chartered university in the heart of Karachi, recognized by HEC and chartered by the government of Sindh. The Institute, based on the ethos of entrepreneurship, technology, and design, is another first and is set to become a hub of higher education.
The Millennium Education Group and The Millennium Universal Colleges TMUC are the ONLY educational institutes to receive the Leading Education Brand of the Region Award in Pakistan. This award is a recognition and acknowledgement of their commitment to providing world-class education and their continuous efforts to transform the education landscape of Pakistan.
News Links
The News
The Nation
Daily Times