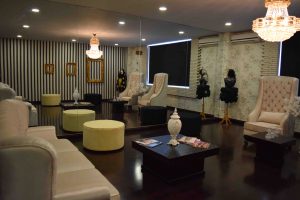 TMUC Fashion Incubation Centre is a fashion business development program designed to support the next generation of fashion entrepreneurs in Pakistan graduating from TMUC. The mission is to help grow and sustain the businesses of the students studying Fashion and Textile Programme over the course of the two years.
TMUC Fashion Incubation Centre will provide a creative professional environment to foster promising fashion talent, and help Learners grow and sustain their businesses. By offering free design studio space, business mentoring, educational seminars, and networking opportunities the program provides a way for participants to reach their full potential and become an integral part of the Pakistan fashion community. For more information on upcoming Fashion displays, Fashion shout outs and Fashion Parades.
For booking Fashion Studio contact incubation@tmuc.edu.pk .